People love it or hate it. It's either ridiculously hard, almost impenetrable, or saucy, smart and wildly amusing. It is epic, long, full of words. All books contain words, but not quite these words: "O! Weeshwashtkissima pooishthnapoohuck!" (a woman having sex).
Then there are the one liners. Great quotes. "History is a nightmare from which I am trying to awake." 
"I fear those big words, Stephen said, which make us so unhappy." (referring to words like patriotism, religion and freedom)
"Our father who art not in heaven." (Stephen's reprobate father spends time in bars rather than providing for his needy family.)
The book abounds in poetic descriptions: A raindrop spat on his hat. He drew back and saw an instant of shower spray dots over the grey flags. Apart. Curious. Like through a colander.
Why am I writing about Joyce today? I grew up in a bookish family. My parents were book publishers. My older brother and sister were avid readers, checking off the classics in record time in their early teens. I tried to imitate them, snail-paced reader that I was. Hopeless. When I was sixteen, I discovered Joyce's Ulysses. And became hooked. How can I explain this? I loved the book's audacity and invention. I could barely understand what I was reading, but no one else could either. I learned to read without fretting. The whole enterprise felt like a game.
But I also learned to trust other sources, other writers and scholars to help me understand this strange treasure. Today the Internet is full of useful sites such as the Joyce Project conceived by Professor John Hunt of the University of Montana. This site has full text of the novel, with informative hyper-linked illustrated notes. It's superb and indispensable.
Two outstanding traits leap out at me from Joyce's Ulysses: its world-building ambitions and its interior streams of consciousness. One is physical, the other psychological. The novel is set in Dublin in 1904 and it recreates the city in such convincing detail that the reader comes away with an intimate sense of Dublin's harbours, fortresses, streets, pubs, newspaper offices, theatres, and residential areas, as well as having a sense of the many personalities who interact within the city: the gossips, wits, bullies, bigots, educators, school children, rebels, flirts, drunks, artists and outsiders. The city is alive with activity and its portrayal is kaleidoscopic and encyclopedic.
You can hardly read a current book that doesn't contain some form of stream of consciousness. What's unique about Joyce's method is how he differentiates one character's thoughts from another's and how these unique streams of consciousness evolve and change under the influence of others and under the influence of the city around them. Internal monologues pop disconcertingly and uncontrollably out of the descriptive text that embeds them. The book is a fascinating give and take of action and reflection, past and present, spoken and unspoken.
The plot takes place in a single day as multiple characters roam and crisscross paths in the city of Dublin. There is the super sensitive Stephen Dedalus, budding novelist and teacher who finds himself homeless after an altercation with an egotistical roommate, stately plump Buck Mulligan. Mulligan is a medical student who fancies himself a patron of literary talents such as Stephen, but has a tendency to ungraciously upstage others with mocking jibes and snobbish quotes.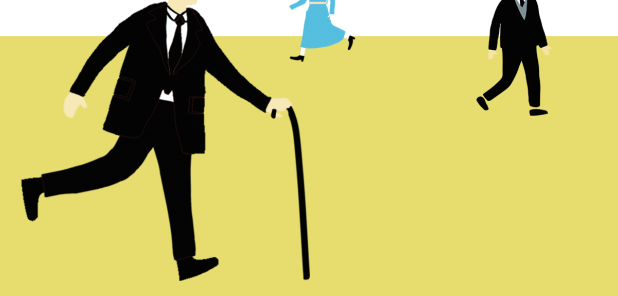 There is Leopold Bloom, half-Jewish advertising salesman for a local newspaper. Bloom is introduced to the reader: Mr Leopold Bloom ate with relish the inner organs of beasts and fowls. He liked thick giblet soup, nutty gizzards, a stuffed roast heart, liverslices fried with crustcrumbs, fried hencods' roes. Most of all he liked grilled mutton kidneys which gave to his palate a fine tang of faintly scented urine.
Bloom has a curious mind, which often gets him in trouble. At a funeral, Bloom thinks of the horror of being buried alive and how telephones in coffins could prevent this. He imagines the dead conversing with the living through telephones and gramophone records, every house could have one. Bloom thinks of a record playing at the wrong speed, this is how the dead might sound, like a bad connection. At another moment in the novel, Bloom wonders if sculptors include full anatomical details in their classical statues. Do the marble gods and goddess have anuses, for example? He determines the only way to answer this question is to visit the National Museum and get down on his hands and knees.
Lovely forms of woman sculped Junonian. Immortal lovely. And we stuffing food in one hole and out behind: food, chyle, blood, dung,  earth, food: have to feed it like stoking an engine. They have no. Never looked. I'll look today. Keeper won't see. Bend down let something fall see if she.
Joyce's biographer, Richard Ellman described Bloom as a "divine nobody" who has little influence on the life around him. Professor Morton P. Levitt however regards Bloom as outsider, survivor, searcher, and comic foil to our age's heightened notions of self. Levitt argues:
"In Bloom, Joyce created the archetypal Modernist figure. No character in modern literature so delight us through their comic diminishment, so powerfully engage our sense of our own humanity through the tragedy and dignity which underscore that comedy, so perfectly in the process represent and yet supercede their times."
Bloom's wife, Molly who is a singer of popular songs, and about to embark on an affair with her manager, while ruminating on her life with Leopold with its many drawbacks and occasional delights and surprises. She is described as a woman with an independent streak: The terribility of her isolated dominant implacable resplendent propinquity, her omens of tempest and calm …
Ulysses abounds in references to poems and songs. Lily of the Killarney. Fun on the Bristol. "I am the boy/ That can enjoy/ Invisibility." "Those lovely seaside girls/ All dimples, smiles and curls …"  Lyrics from Mozart's operas, snatches of children's rhythms, newspaper headlines, advertisements, and popular ditties all make their way into character's speeches and thoughts. These sources are quoted, misquoted, bowlderized and parodied depending on the speaker and his or her state of mind.
Joyce has two alter-egos: Dedalus and Bloom. One is a youthful intellectual, the other a middle-aged extrovert. One has grand thoughts of philosophy and the soul, and the other has absurd daydreams pervaded by all the sticky messy things of life. Throughout the novel, the two characters are on a collision course with one another, though they have no idea of it until it happens. The novel starts with intellectuals and their acts of unkindness and ends with the generous Bloom rescuing Dedalus from trouble. Bloom, the nobody who everybody overlooks, emerges as a hero. Kindness over unkindness.
The book alternates viewpoints of high and low. For example, the novel opens with characters on the roof of a demilitarized Martello Tower overlooking Dublin Bay where two bachelor friends live.  "God! he said quietly. Isn't the sea what Algy calls it: a great sweet mother? The snotgreen sea … Epi oinopa ponton."
The first quote references Algernon Swinburne poem's The Triumph of Time: I will go back to the great sweet mother/ Mother and lover of men, the sea. This is followed by a reference to "snotgreen sea," which is a parody of Homer's oinopa ponton, or wine-dark sea. A loving reference to literature sets up a more jeering school-boy expression. This high-low duality (the Dedalus-Bloom duality) repeats throughout the novel.
A second example concerns Molly Bloom, unfaithful wife and concert performer. When her husband asks what she'll be singing in an upcoming show, she answers, "Là ci darem with J. C. Doyle, and Love's Old Sweet Song." The first is a cynical seduction song from Mozart's opera Don Giovanni, (a woman is tempted to betray her fiancé) and the second is a sentimental ballad that affirms the constancy of love. The scene between Molly and Bloom proceeds. The wife asks the meaning of a word in a book she's been reading. The word is "metempsychosis." Bloom first describes it as the transmigration of souls. Blank look. He tries again with something about life after death, when Molly interrupts. She wants a new book to read. "Get another of Paul de Kock's. Nice name he has." The conversation turns from high to low. This sparks Bloom's memory and he thinks of the word "reincarnation." Searching for an example of the concept, Bloom remembers a picture that once hung over their bed. The picture showed seaside nymphs: a mythological subject featuring naked bodies. It is not just Molly who turns from high to low. Every character. Joyce seems to be saying this is the way all our minds work, with dichotomous ideas and sensations bursting upon us at every turn.
Similar thoughts strike different characters. Bloom muses on reincarnation, so does Dedalus. He spots a dog on the beach and whimsically imagines the dog nosing about the sand and seaweed "Looking for something lost in a past life." Wandering souls. The characters in Ulysses wander through the city of Dublin; they also wander through the history of ideas and the idioms of language.
Ulysses ends with literature's most famous stream of consciousness passage. Molly Bloom wakes beside her husband and muses on her day spent with Blazes Boylan, her new lover who satisfies her sexually, but who doesn't measure up to her husband in other ways. Molly muses over her childhood, courtship, children, career, but keeps returning to Bloom, the man sleeping beside her. She thinks about his love letters. Though Bloom's letters to her are peculiar and erotic, passionate and incomprehensible, deeply flawed like the man himself, they are flattering signs of devotion and she realizes that's no small thing. Her epiphany about her love for Bloom strikes herself and the reader at the same moment in one of the most fantastic happy endings ever imagined as she reiterates her marriage vows.
Comedian and actor Stephen Fry declared: "It is a book associated with difficulty when in fact it should be a book associated with joy … it's comic. I think all great art is comic because comic art is about joining. The last word of Ullysses is 'yes." In fact the last three words are 'yes, yes, yes.' It's the most affirmative book. As you may know, it's the retelling of Homer's Odyssey, the greatest story ever told. And it's told in one day, in Dublin, the 16th of June, 1904. Instead of Ulysses, this great Greek hero, there's this little Jewish man called Leopold Bloom … Read it and you'll be astonished at how beautiful it is." Stephen Frye on Ulysses, "Why I love this Book, 2011